Written by Rebecca Barsiola, one of our Product Managers detailing her experience in Italy during the COVID-19 pandemic.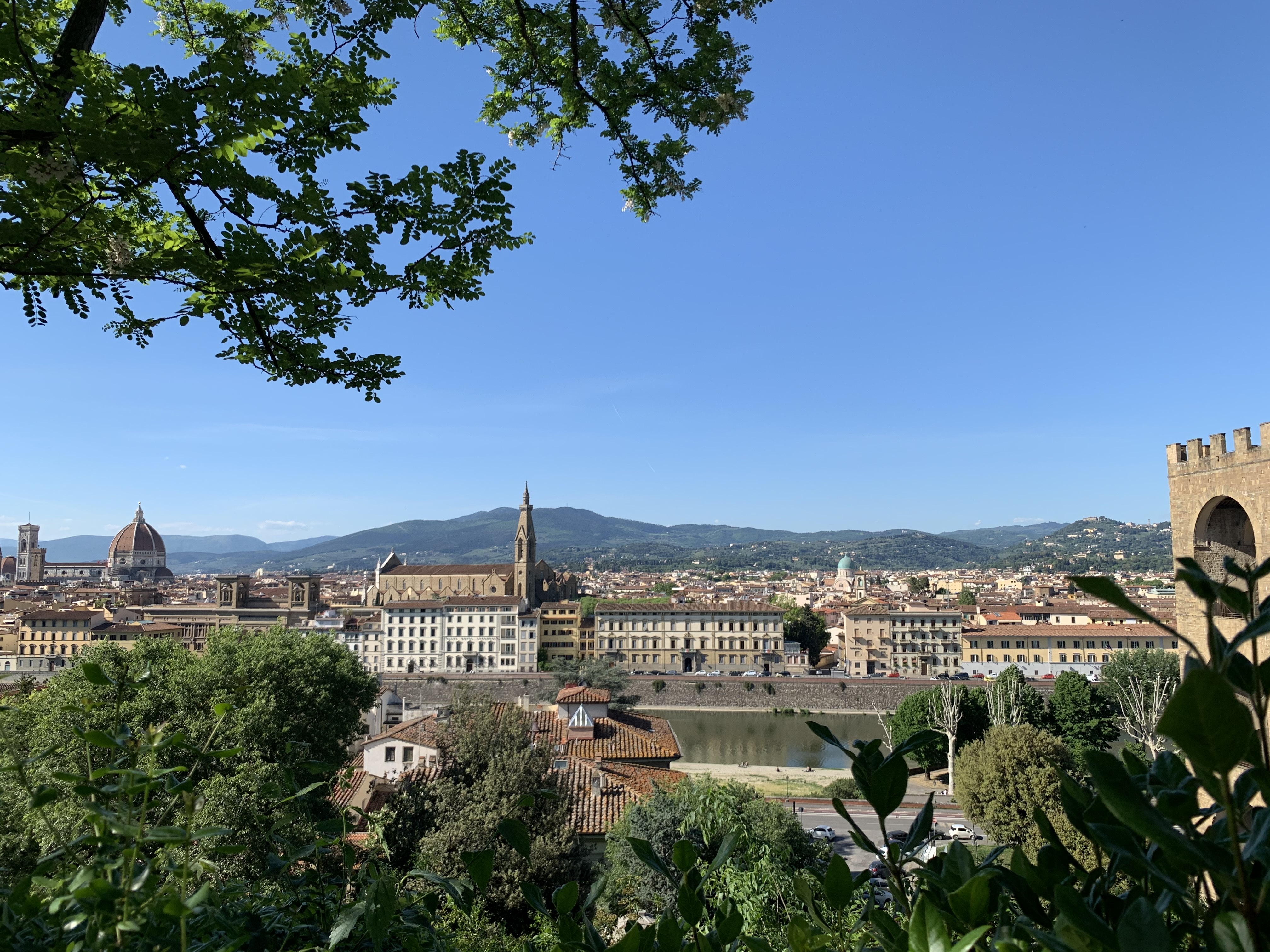 How The Pandemic Changed My Life In Florence For Better or Worse
It's March 2021, a beautifully sunny yet chilly March. I've just moved into my new apartment in Florence with a friend that I met through another friend — the expat community in Italy thrives on two degrees of separation — if you know one person you know them all.
It's been a year since the country first plunged into lockdown. It feels different yet not really; Italy is rapidly approaching yet another total lockdown.
Back in November 2020, Italy introduced a three-tier system for determining restrictions for each Italian region. With most of the Italian regions having returned to Zona Rossa (Red Zone in Italian), Florence is one of the few remaining cities still vehemently holding onto their Zona Arancione (Orange Zone) status, but we Fiorentini know it's just a matter of time.
My Story
For context, I was born in Italy but raised in the States. My family moved from Pietra Ligure, Liguria to Melbourne, Florida when I was around the age of 5. Like many immigrant families, money was tight but my parents did a great job at not letting me or my siblings feel it. It wasn't until I was in my teens that I realized how much of a risk my parents had taken moving us across international borders.
From the time I was 7, I was sent to stay with family back in Italy every other summer (or when there was some extra money). I thrived during those Italian summers. Every time I would land at Malpensa, there was an unexplainable sensation of belonging. It was hard to say goodbye at summer's end but I made it a goal to one day 'rientrare in patria' (return home). By 2018, I made it happen when I moved to Florence to start working for Bus2alps.
The Beginning of the Pandemic
Thirteen months ago I was in Capri with my boss touring our partners, doing our pre-season check-ins. COVID-19 was a novel and faraway thing. In fact, we joked about it with one of our suppliers, even going so far as saying that Italy wouldn't be impacted. Fast-forward a few weeks and the first cluster cases are reported in Lombardy and Veneto. By March 11th, Italy had gone into a strict nationwide lockdown. What was supposed to last two weeks was continuously extended until the middle of May.
This was a dark period for me; literally, for 72 days I didn't get direct sunlight. I couldn't go for my usual passeggiata (stroll in Italian), I could only get groceries once a week, and I had to carry a self-declaration form verifying the reason why I was leaving the 50-meter radius of my home.
I was used to having company but at the onset of the pandemic that rapidly changed. My roommate was forced to return home to Philadelphia and I found myself unexpectedly living through a pandemic, alone. My mental health took a dip. The only human interaction I had was relegated to Facetime. I started naming the walls in my apartment for company —there was Hank, Caroline, Clyde, Bert— and I seriously considered fastening a makeshift leash to a stuffed toy, so that I had a justifiable cause for walking more than 50-meters.
Then the light at the end of the tunnel momentarily peeked through during the summer.
The (Temporary) Summer Light
The first thing I did when restrictions were lifted in May was go for a 5-hour walk through Florence. No destination in mind, just clear eyes and my feet leading the way. I needed to document the moment– Florence empty. I hit all the main Piazzas and the big sights like Ponte Vecchio. It was an emotional experience; it didn't feel like Florence anymore. Where were the crowds of tourists? Where were the long lines outside of the Duomo that snaked around?
I ended my walk at Piazzale Michelangelo and for the first time ever I didn't have to fight for a seat on the steps. There was no live music playing, instead, there was an eerie silence that overlooked the entirety of the city centre. It was beautiful but, more than anything, it was melancholy.
I took advantage of Europe during the pandemic summer. I traveled when I could —for the limited work we had and for pleasure— alongside strictly enforced COVID-19 protocols. I saw places that usually were overwhelmed with travelers completely empty besides the locals and a smattering of small tour groups. But by the end of the summer, we all were aware that a second wave was imminent.
The Second Wave
The week before Halloween 2020 voices started circulating that another lockdown was upon us. Having done one lockdown on my own, I wasn't about to do a second.
Red Light, Green Light
During the first Italian lockdown, my mom and I would talk every day sometimes multiple times a day. She was aware of how hard a solo-lockdown was on me. Every day, without fail, she'd present the option of heading back to Florida to stay with them until lockdown restrictions had eased up. And every time, I would refuse.
By October, I knew I needed to be around family; however, flying to the States wasn't an option. At this point, I hadn't seen my parents for almost a year — I was feeling homesick and in need of familiar faces. Instead of staying in Florence, I headed up to Liguria to stay with my aunt and uncle. I stayed for almost two months —Liguria dancing between yellow zone and orange zone — while Florence went into red zone.
Being a resident of Liguria but 'domiciliata' in Tuscany I was able to travel between the regions even during the changing zones. In the midst of all of this, I was looking for a new apartment while in discussions with my landlord about an increase or decrease in my rent.
By New Years, I was back in Florence in my 60mq apartment right off piazza Duomo with its windows that, if you angled yourself perpendicularly, you may be able to see the Battistero (the baptistry of St. John) or if you popped your head out like a meerkat on high alert, the top of the Cupola (Brunelleschi's dome) could be in sight.
By February 2021, we had been playing this game of 'red light, green light' — or in this case, red zone, orange zone, yellow zone — for almost a year. And by the end of the month, my landlords had decided to increase my rent, so I had to find another living situation and pronto!
Taking stock of how passing a lockdown alone was miserable — especially when you live in the city centre without direct sunlight or outdoor space — I decided to move in with a friend and her cat; the apartment being only a 10-minute tram ride from the city centre. Moving during a semi-lockdown is nerve-wracking, but moving from a fourth-floor apartment without an elevator and the steepest stairs you've ever seen, makes for a daunting experience.
Third Time's (hopefully) The Charm
With a forecasted unemployment rate of 11.1 percent by the year 2022 and a -53 percent in reservations for the 2021 tourism season, Italy is going through the wringer; but one thing I've learned is how resilient it can be — to create where there is nothing.
Italy's tech sector is booming, with over a hundred new startups from beauty, to finance, to e-commerce apps popping up left and right. Meanwhile, small businesses are coming up with intrepid, forward-thinking ideas to get customers back much like how the local bar, Vivoli, and Babae, began using their wine windows during the summer to not only serve socially distanced glasses of wine, but bring back a practice used during the Renaissance.
And incentives started under Conte (Italy's Prime Minister at the time) to revitalize certain sectors with a focus on sustainability, green energy, and health have been at the forefront for potential restarts. All we have to do now is wait, follow the restrictions, and hope that the third time's the charm…
The Give and Take of the Pandemic
While this pandemic has taken so much from myself, the Italian people, and the world, one thing COVID-19 has given me is time. Time to sort out my residency, sign up for driving school, see relatives, and travel for personal reasons. It's given me the time to reflect, sort out the jumble that is my headspace, re-prioritize my life, and take stock of the here and now.
It's had its sour moments; having us face loss —of loved ones, of jobs, and of normalcy— and it has made us refocus at a jarringly sudden pace. Like most people living during a pandemic, you realize that making concrete plans is almost impossible. Things change at the drop of a hat and you have to roll with the punches.
And if there is one thing I've taken away during this whole lockdown lifestyle is that pajamas are good for any occasion.