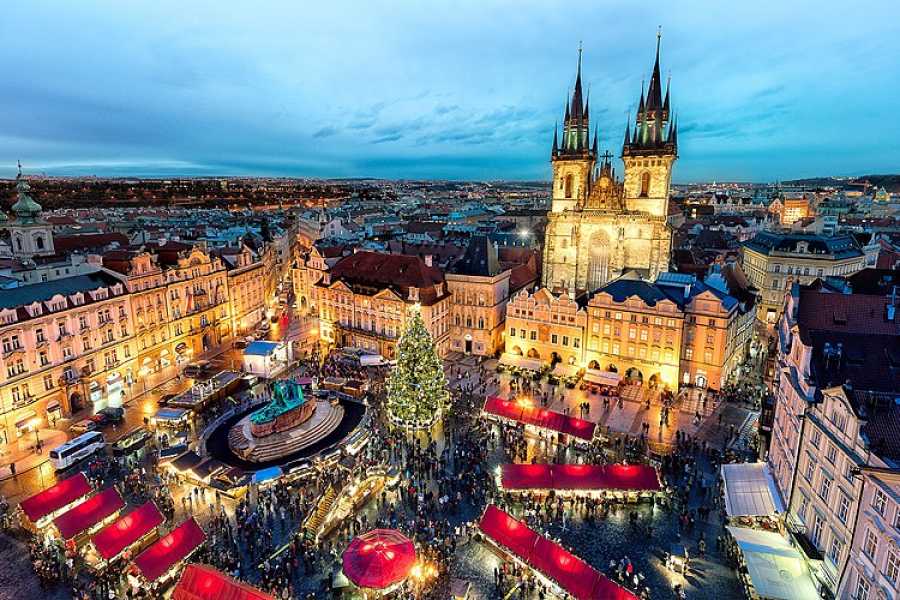 Fall in Europe is a special place to be and the Prague Christmas Markets make it extra magical.  The weather starts cooling down, the leaves start changing colors, and the holiday season inches closer and closer. The best part about the holiday season? Easy answer, it's Christmas Markets! Where are some of the best Christmas Markets in Europe? Head to Prague, Czech Republic.
How can you visit Prague Christmas Markets? We've got you covered and are sharing the best way to visit the magical markets of Prague. This year the markets will be open from November 20, 2020 – January 6, 2021.
Interested in visiting the Prague Christmas Markets this year? Check out our trip here.
Explore the markets in every square
Prague Christmas Markets Guide

Prague's Christmas Markets are spread across the city's many squares. Learn about all the squares in advance to maximize your time and visit them all!
Old Town Square
The most famous square in all of Prague is Old Town Square located in the center of the city. The markets in Old Town Square are open from November 28th until January 6th, with the stands open from 10 AM to 10 PM, refreshments are open until 12 AM.  Try to catch some of the Christmas events and lives shows including carol concerts, and dance performances.
Wenceslas Square
The Wenceslas Square markets are a second favorite as they're located close by a busy shopping street. The markets are open from November 28th until January 6th and specializes in handmade wooden and steel gifts. This market is open the same hours as Old Town Square, stands open from 10 AM to 10 PM, refreshments are open until 12 AM.
Republic Square
Also located nearby Old Town Square and Wenceslas Square is Republic Square. These markets are open from November 25th to December 24th with operating hours of 10 AM to 7 PM. This market sees a lot of foot traffic as well as its located in front of the Palladium shopping center!
Ready to book your trip to the Prague Christmas Markets? Join our trip on Thanksgiving Weekend! Learn more here.
Prague Castle
The Prague Christmas Markets at the Castle are open from November 23rd to January 6th and are located in St George's Square and the Stable yard. Take note that these markets are only open until early evening with operating hours of 9 AM to 6 PM  Monday to Thursday and 9 AM to PM Friday to Sunday.
Peace Square
The Peace Square market is the first to open up and kick-off the holiday season with operating dates of November 20th to December 24th from 10 AM to 7 PM. Located in front of the beautiful Church of St. Ludmila, be sure to check out the handcrafted goods from the local vendors.
Eat (and drink!) the Local Cuisine
Prague is famous for its delicious and hearty cuisine accompanied by some delicious Czech beer, which is oftentimes cheaper than water! Make the most of your trip to the Prague Christmas Markets and eat some of these incredible local dishes.
Can't Miss Eats
Trdelnik
This sweet chimney cake is coated in cinnamon sugar and can be filled with ice cream or your filling of choice.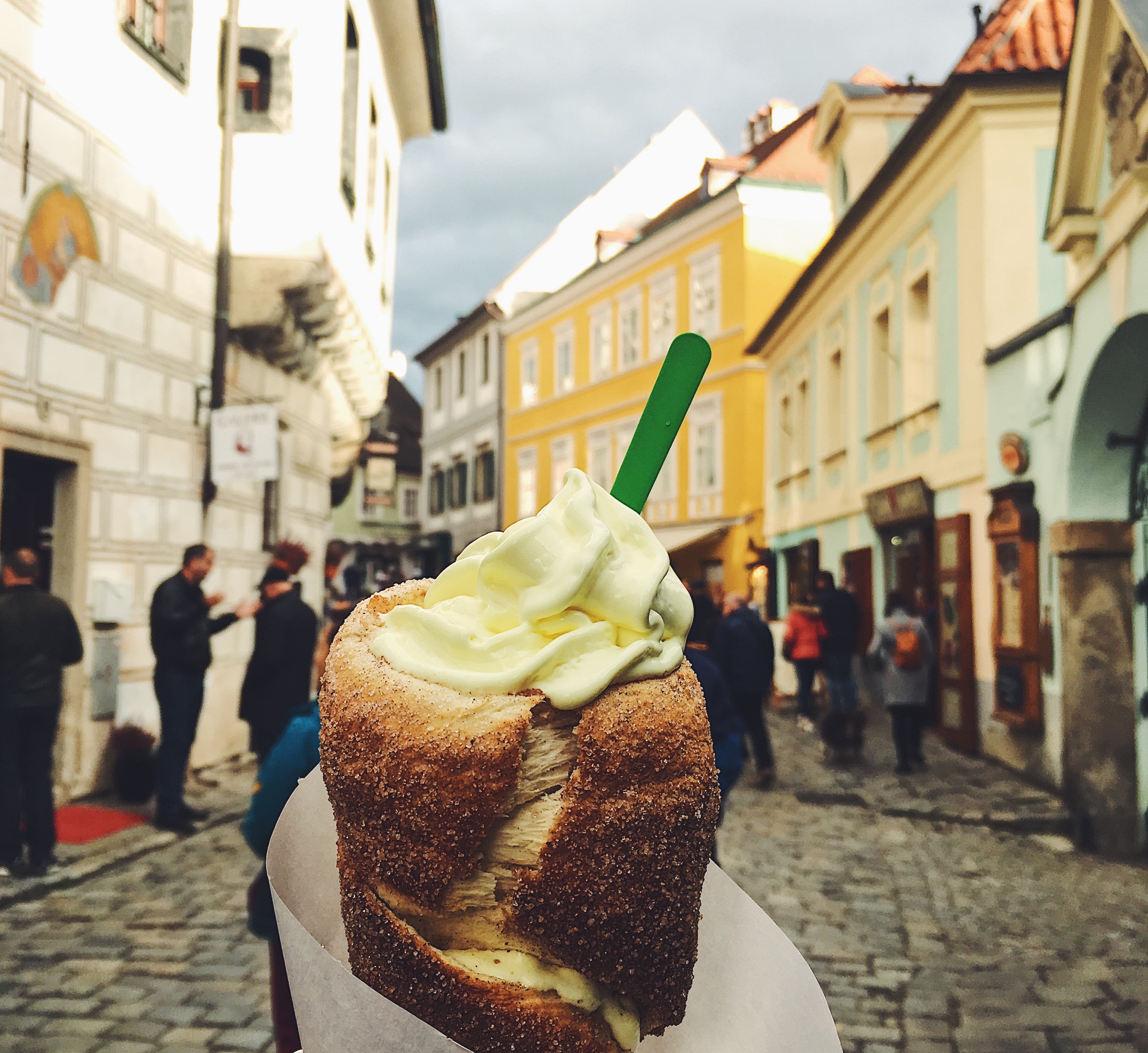 Svíčková (braised beef) with dumplings
This savory and hearty dish is the perfect cold-weather meal with its savory and sweet flavor combination.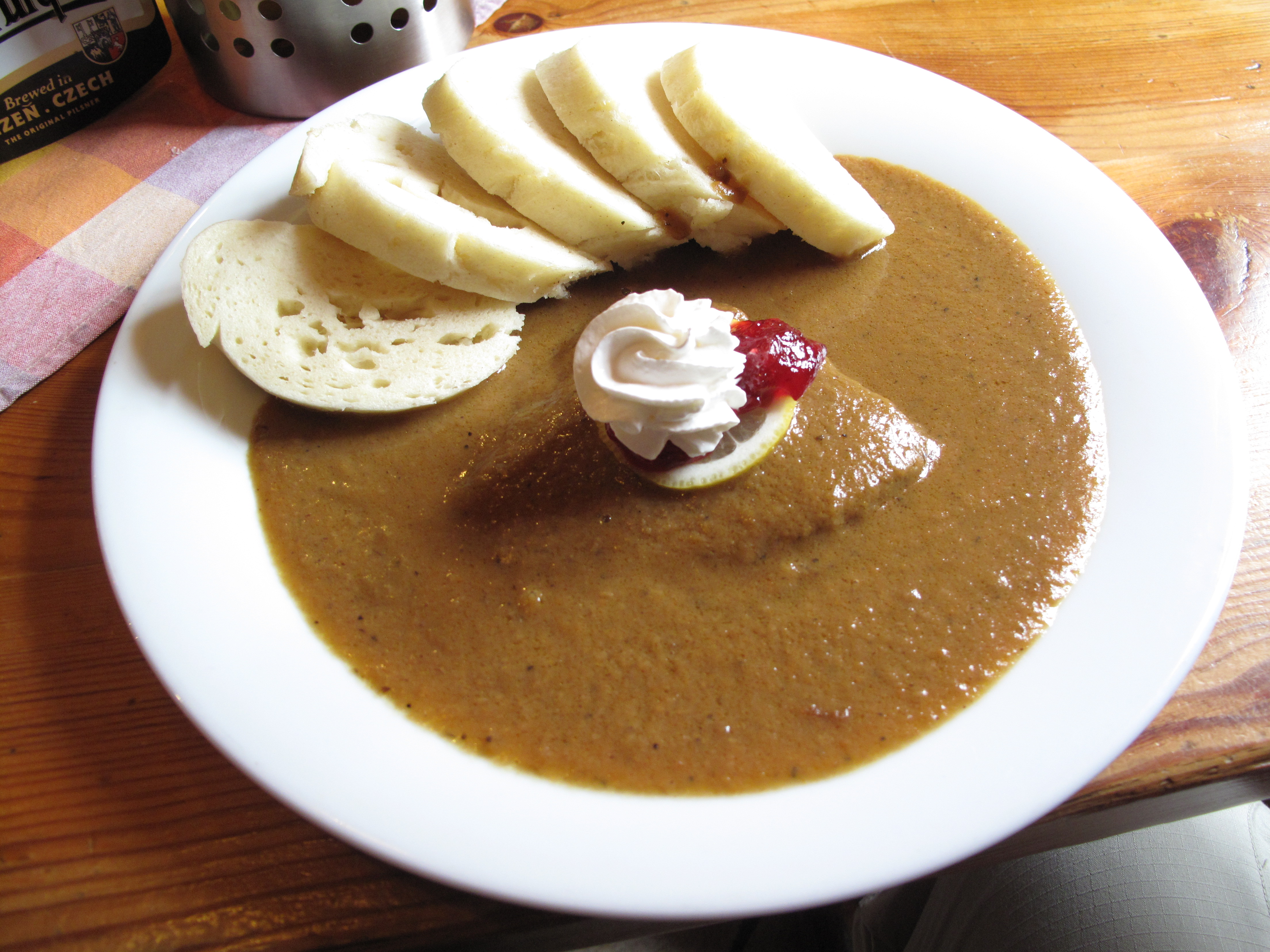 Goulash
Though traditionally a Hungarian dish, the Czech version is too delicious to pass up.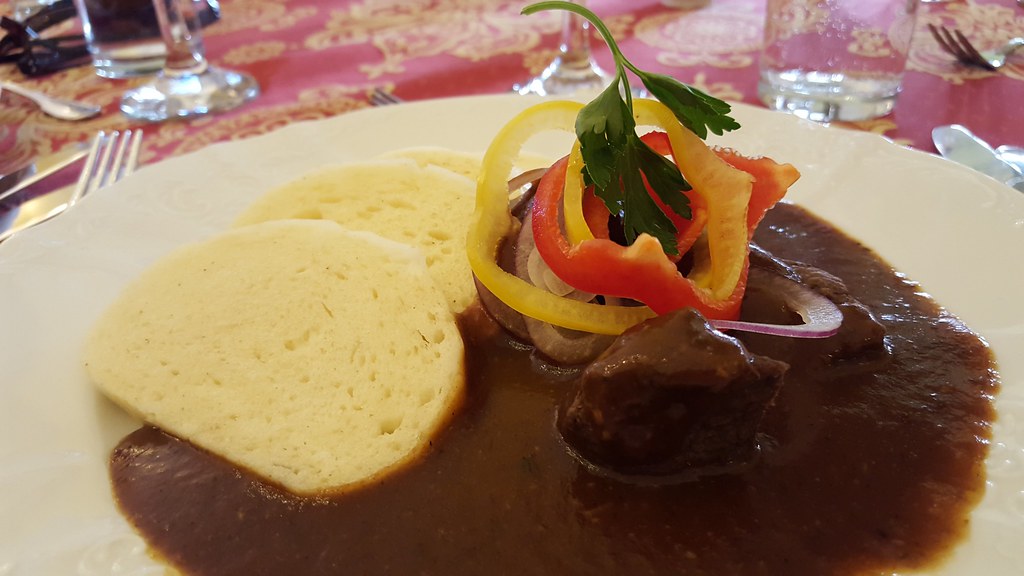 Visit a UNESCO World Heritage Site
Take a day trip to Česky Krumlov, a picturesque Czech town south of Prague and UNESCO World Heritage Site. Marvel at the towering Česky Krumlov Castle, meander through the streets of Latrán, and sip a cold Pilsner Urquell along the Vltava.
---
Join us on our weekend trip to Prague November 25th, book your spot here.
In response to COVID-19, we have updated our procedures and staff training and added new precautionary measures to prioritize the wellbeing of our travelers, staff, partners, and destinations. Our "Safe, Responsible Travel Policy" is based on recommendations from the World Health Organization and industry guidelines from the World Travel and Tourism Council and the Adventure Travel Trade Association.