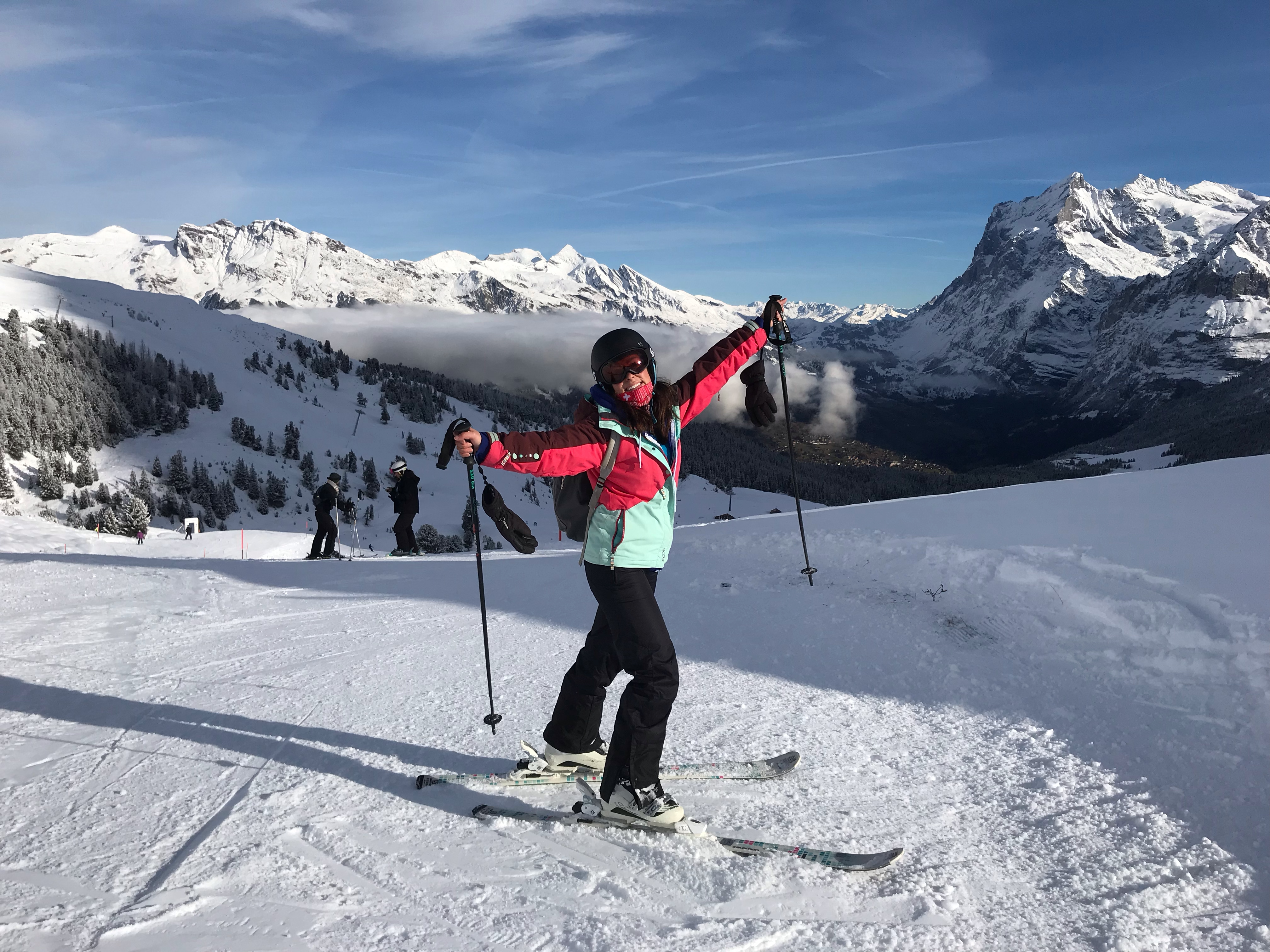 If you've been dreaming of the Swiss Alps and trying to plan a weekend visiting the stunning destination of Switzerland, let us introduce you to the perfect solution: Interlaken. Bus2alps has been lucky to call Interlaken, Switzerland our home for over 17 years, so we'd like to consider ourselves experts on crafting the perfect trip to this Swiss paradise.
We've created the perfect itinerary for the ultimate weekend in Interlaken, Switzerland. Check out our recommended plan below or let us handle the details and look at what trips we have running to the Swiss Alps. 
The Ultimate Weekend Itinerary: Interlaken, Switzerland
Day 1 – Visit the Schilthorn – Piz Gloria

Head to the top of a mountain and visit the Schilthorn – Piz Gloria to take in sweeping views of the surrounding Swiss Alps. The top is 2970m above sea level and you'll be able to view Eiger, Mönch, and the Jungfrau peaks. You'll take a series of cable cars to reach the very top where you'll walk across suspended cages that test your courage, and visit the James Bond Museum. We recommend enjoying a meal at the world's first revolving restaurant!
Day 2 – Kayak Lake Brienz 

Interlaken is located between two stunning bright blue lakes, so take the opportunity to view the Alps from a unique perspective, from a kayak on the lake! You'll have the lake to yourself during the colder months you'll be surrounded by snow covered mountains which reflect on the reflective water.
Ready to head to Switzerland already? Head over to our website to book your trip. 
Day 3 – Taste Interlaken's Best Food

In the quaint center of Interlaken, you'll find a variety of local shops full of Swiss goods, but there is one place you can't leave Switzerland without trying: Swiss chocolate paradise – Funky Chocolate Club. Try a variety of their delicious chocolate creations, we recommend the chocolate covered strawberries and hot chocolate!
Try out these other local dishes:
Älplermagronen – Swiss mac n' cheese with applesauce
Rösti – think of it as a  Swiss version of an American skillet
Fondue – Chocolate or cheese fondue is the ultimate cold-weather Swiss dish
Interlaken adventure activities:
Interlaken is considered the Adventure Capital of Europe, so fill the rest of your weekend with one of many outdoor activities that it has to offer!
Paragliding
Skydiving
Sledding (weather-permitting: Late November – March)
Skiing/Snowboarding (weather-permitting: Late November – March)
And tons more! Check out all the activities Interlaken has to offer. 
We're operating a selection of trips to Interlaken this Fall 2020 – view our trips and book your Swiss Weekend.
In response to COVID-19, we have updated our procedures and staff training and added new precautionary measures to prioritize the wellbeing of our travelers, staff, partners, and destinations. Our "Safe, Responsible Travel Policy" is based on recommendations from the World Health Organization and industry guidelines from the World Travel and Tourism Council and the Adventure Travel Trade Association.
See you in the Alps!