During Women's History Month, we set out to talk to a variety of influential women in travel to ask them to share their experiences related to the travel industry, their personal and professional challenges in the past year, and their predictions for the future for travel.
Our next featured influential woman in travel is Kim Whitaker. Kim is the Co-founder of Once Travel, Khwela Woman, and she founded Ubuntu Beds during the COVID-19 pandemic. As a snow ski instructor and backpacker turned award-winning hospitality entrepreneur, Kim knows first-hand that as a leader being in flow and possessing the ability to innovate are essential skills that make a huge impact. She works with entrepreneurs, executives, and youth around the world, helping them understand how to use their lived experience to get "unstuck" and move towards great personal transformation and growth.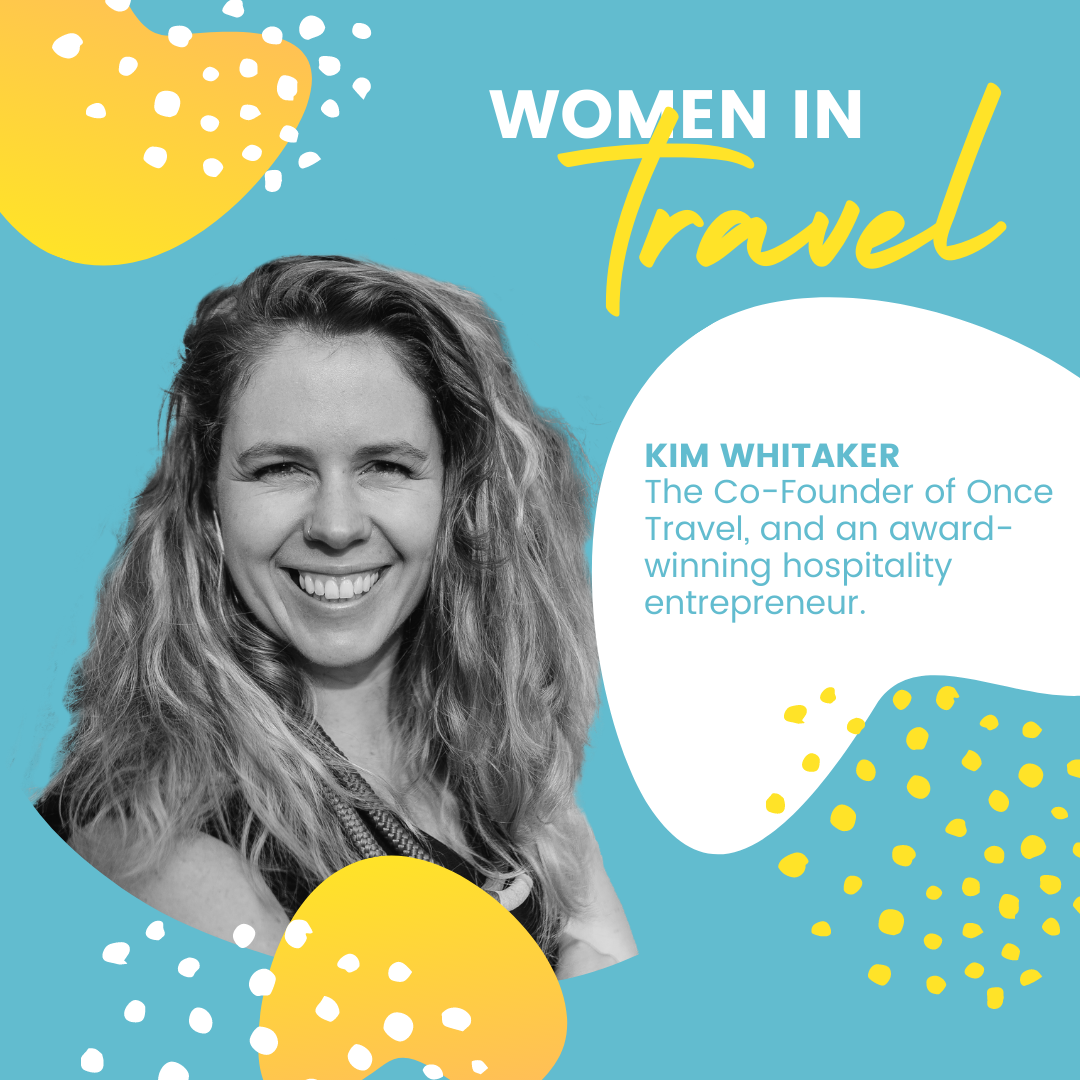 This woman in travel has won numerous entrepreneurial awards including the prestigious Sanlam/ Business Partners Entrepreneur of the Year award, Premier's award for entrepreneurship, and Mail&Guardian 200 Young leaders. Read our interview with Kim as she shares her experiences and wisdom in the tourism industry!
1 – How has your company responded to the challenges of COVID-19 and the disruption to the travel industry? Have you been able to turn any of the challenges into opportunities?
I was in Germany in March 2020, as I was scheduled to attend ITB and the Berlin Travel fest. As I landed in Berlin, I hear the news: the event has been cancelled. I was so disappointed! I continued to see colleagues through the week, but there was an eerie heaviness in the air as the travel bans started rolling in. I had planned a skiing weekend in the Alps with a girlfriend months before, and we decided to go ahead – after all, COVID was only in Italy at the time. After a wonderful weekend in the snow, it was time to return home. My friend, also in the travel industry, was increasingly concerned as the company started announcing office closures and possible retrenchments. I returned to South Africa, where life was still continuing "as normal." Under duress from my kids' school, I went into quarantine and got a COVID-19 test for good measure. To my surprise I tested Positive. I was number 42 in South Africa. It felt strange being locked indoors in the height of summer, while my friends were arranging pool parties and attending music festivals. I believe the extra 2 weeks of reflection bought me time not only to reflect but also to strategize my next moves.
I attended a Zoom call to an entrepreneur in Italy (Lombardy) the then epicentre of the pandemic. The entrepreneur (also a doctor) spoke of the toll on Healthcare workers, as they were burning out and afraid to go home for fear of infecting their families. Someone asked what he would have done 2 weeks ago, to which he replied: "I would have arranged with the hotels, that are now all closed, to stay open and accommodate healthcare workers." I had a lightbulb moment: I would build a technology platform that connects healthcare workers in South Africa to empty hotels, BnB's, Apartments, offering free and safe accommodation so they wouldn't need to worry about returning home to infect their loved ones. Over a year later, Ubuntubeds.org has placed thousands of healthcare workers, put millions of Rands back into the economy and I've been able to keep my Cape Town hotel's doors open. During COVID I had to retrench over 50 staff, which was really devastating. The upside was we were able to rehire many under Ubuntu Beds, and besides offering a strong sense of community and purpose, our team was able to keep a form of income during a time when travel was prohibited.
2 – How has your role or position in the company changed since the start of the pandemic?
I have moved from almost entirely growth, business development, and marketing in the travel business, to a lot more strategy and finance. Eventually, I resigned from the travel company in October 2020, as there was very little left for me to do, and we decided to rather focus on operations by hiring a general manager. I moved my focus entirely onto Ubuntu Beds and Khwela Womxn, as I felt a strong desire to get involved in a community that was reeling in the aftermath of COVID-19.
3 – Beyond the disruption to our industry, how have you personally been impacted? Please share some examples of how you reacted to and overcame the personal challenges over the past year.
My family and I were very lucky to move out to our family farm outside of Tulbagh. My two young kids (4 and 8) were able to run wild and free for the five months that school was online, and because we were so remote, we never had to wear masks or interact with others. I started a vegetable garden, which ended up growing huge! We now have a beautiful array of seasonal veg and it's taught me a lot about nature and its abundance. My husband built a mountain biking trail for our kids and ended up linking it to a greater route around the valley. I suffered from long-term after-effects of COVID (hair loss, chronic fatigue, struggling to breathe), but it forced me to start focusing on my health. I started running in June 2020, and have just run my first 10km trail run!
4 – Do you have any recommendations for our readers regarding planning travel in the future?
If the roaring '20s were anything to go by, I believe that the post-pandemic decade will see humans across the globe travelling with renewed energy and vigor. Especially young people I have observed, are feeling lonely and perhaps even robbed of their twenties. With savings at an all-time high in the global North and a craving for connection, I believe young travellers will take back to global travel when it is safe to do so. I believe, with a drop in demand, that travel destinations will remain reasonably priced for a while. This, along with the global trend in remote working makes for an exciting proposition to stay longer in detonations and work remotely. At this stage, only about 18 countries have a digital nomad visa, but I foresee this trend increasing. In my case, my family is planning a sabbatical in British Columbia, Canada – to spend time with each other, explore nature and work remotely.
5 – What is your biggest takeaway from the past year?
2020 was so much More than just the pandemic. Black Lives Matter. The USA elections. Lockdown. Violent protests. All these wicked problems that shook the globe awoke a sense of fear, anxiety, and uncertainty in so many. My biggest takeaway was to lean into uncertainty, put through the fear and get creative about confronting and solving important problems. I hope that humanity takes this pause to reflect inwards, and choose to travel with purpose and choose suppliers who offer an amazing experience while making a significant impact on local communities, guests, and stakeholders.
---
Connect with Kim and her ventures
Once Travel/ Instagram  / Facebook
Ubuntu Beds / Instagram / Facebook
Khwela Woman / Instagram / Facebook