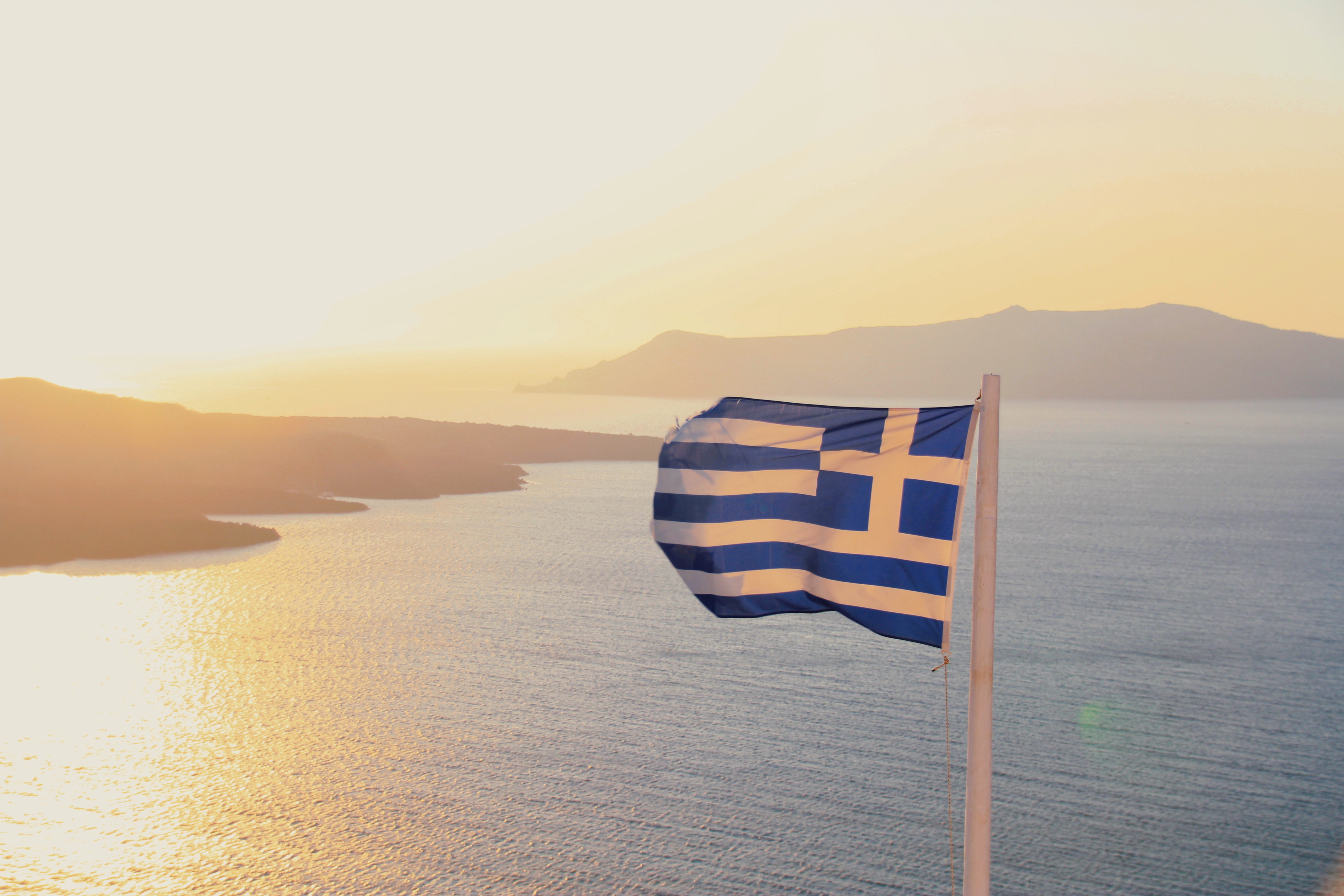 by Rebecca Barsiola
Want to visit the Greek Islands? We can understand why, which is why we have you covered with all the details you want to know about visiting this stunning European destination.
Nestled between three seas—the Aegean to the east, the Ionian to the west, and the Mediterranean to the south—Greece hangs precariously at the southernmost tip of Europe. The country is no larger than Florida and yet has the largest coastline in Europe due to its numerous islands—numbering in the thousands—that speckle its seascapes.
The Greek Island landscape is oftentimes made up of blue and white-domed homes snuggly placed against mountainous terrains. In some places, such as Santorini, the rugged martian-like terra spills into eclectic emerald-hued waters.
Each island offers something different; from beautiful villages and natural landscapes, to historical and cultural sites, to beaches and booming nightlife scenes. It's no wonder that each year visitors choose to travel to Greece.
The Greek Islands
Quick Facts: 
More than one-fifth of the Greek landmass consists of islands (6,000 total, of which 227 are inhabited).
No point in Greece is more than 60 miles from the sea – this is a beach lover's paradise!
The local currency is the Euro
More than 33 million people

visited Greece in 2018

The average temperature in the summer months is 88°F
Planning Your Trip:
Planning a trip to Greece can be overwhelming – With over a millennia of rich history to discover and more than 200 islands to choose from how can you possibly know where to start? We've been planning trips to Greece for our guests for over 18 years, so we're sharing our expert knowledge with you to take the stress out of planning and ensure the perfect Greek getaway. Below we've compiled a helpful guide to getting the most out of your vacation to the Greek Islands!
Must-See Greek Island Destinations:
While this could be a never-ending list, we've narrowed it down to our top 4 absolute 'Can't Miss' islands in Greece. These destinations are a sure-fire way for you to live your best Grecian fantasy.
Santorini – Iconic island sunsets, delicious wine, beautiful buildings
Corfu – Traditional greek cuisine, historical and picturesque scenery
Mykonos – Famed for beautiful beaches, fantastic seafood, romantic resorts, and a world renown party scene

.
Ios – Over 300 historical greek churches, vivid Ios nightlife, views of the silky sea, hilltop villages, and it is the greek island where Homer was laid to rest.
*Bonus Must See, Non-Island Destination:
You can't travel to Greece and not check out Athens – Europe's oldest capital, the birthplace of democracy, cultural hub.
Be sure to stay a few days to explore the bustling of Monastiraki Square, get lost on Plaka's cobblestone streets, and grab a gyro (pronounced yeerro) before climbing the steps to the Acropolis!
What To Do on the Greek Islands:
Besides the obvious activity of hitting the beach and soaking up that Greek Island sun, these destinations offer culture, adventure, and relaxation all in one. Check out our recommendations of activities to fill your trip itinerary.
Santorini
Watch the Sunset in Oia
Wine tasting at a local winery
Explore Fira, the island's capital
Go on a boating excursion around the island
Corfu
Try the local cuisine such as Pastitsada, Pastrokio eggplants, and Fogatsa
Head to the old town of Kerkyra

Visit the Old Venetian Fortress
Do a quad safari
Mykonos
Wander around winding streets of Mykonos town
Visit the windmills

Lounge out on the beach

Experience the world-famous nightlife

Get lost in little Venice
Ios
ATV island tour

Spend the day at local beach clubs

Shop in Chora
Try out water sports like paddle boarding
Dance until dawn
Our Featured Greece Trips


Spend the week enjoying the best of the Greek Islands: Santorini, Ios, and Mykonos. Designed to fit perfectly in with your work schedule, take a week (from Saturday to Saturday) to escape to the land of white and blue buildings, crystal waters, and fresh feta.
Greece Island Hopping:
See the Acropolis up close, visit the Olympic stadium, and stroll the markets of Plaka in Athens. Stop by beautiful Santorini for the world's most astonishing sunset over white and blue-domed houses and get swept up in the island nightlife. Finish the week on the island of Corfu, where you can kayak, ATV, and dance the night away in a toga!
Getting Around:
With a little more than 200 inhabited islands spread in a vast area divided into eight main island groups, getting around can seem daunting. A natural starting point for your Island Hopping adventure is flying into Athens as, generally, for international flights, you will find more direct flight options available to you; most islands don't have airports, however, places like Mykonos, Santorini, and Corfu have international or regional airports.
From there, we recommend ferrying to 2-3 islands and exploring those more thoroughly. From late May to early October, there are ferry connections between most islands in an island group but keep in mind that it doesn't mean that between every Greek island there is a ferry connection.
For example, Santorini to Corfu is a 603 km (375mi) journey that has you ferrying from Santorini to Piraeus then transferring by bus to Igoumenitsa before finally ferrying to Corfu!
Flying between islands is not the most cost-effective or eco-friendly! The best way is to fly into your starting destination and then ferry between your top two or three islands of choice. If you decide to fly, check the fare rules. For most airlines, basic fares only include hand luggage while, for example, Ryanair charges an extra fee.
*TIP: take travel time into consideration! Ferries are how you will travel between islands, but they're not exactly quick! Be prepared to live like the locals do, at a slower and more relaxed pace of life.
Budgeting for your Trip:
Before setting sail for your Greece trip take into consideration the type of traveler you are. Do you prefer 5-star hotels and luxury amenities or do you want to travel on a more economical budget? The type of budget you put together will vary depending on how flexible you are and what you are looking to get out of your travels.
In Greece, hotels can cost during the high season can range from €100 – €200/day per person. And in the low season, they range from €45 – €80 per person. While a bed in a hostel can range anywhere from €15 – €45/day per person.
Ferry tickets can range from €30- €35 for one-way tickets for most routes. Additionally, if you are traveling on your own, we recommend a mid-range budget of at least between €40- €60/day for any supplementary expenses you might have, especially if you plan on shopping, exploring historical sites, or doing any extra activities.
Also, it's important to note that due to the Coronavirus pandemic prices are expected to be higher than pre-pandemic levels to supplement smaller capacities and support local communities that are reliant on tourism and have been struggling without the normal influx of tourists!
*PRO TIPS: Know where to eat! Local tavernas, for two people sharing a couple of dishes, a salad, and a starter, your bill can be well under €30. You may also be offered a complimentary dessert or some fruit after your meal. OR consider street vendors as you can spend about €10/day for food!
Yamas!

( Let's Go!)

Greece is the first major European destination to reopen to tourists ahead of the summer season; lifting its quarantine requirements for vaccinated travelers coming from Europe, the UK, and the United States! Direct international flights are now allowed to some of Greece's most popular vacation destinations such as Mykonos, Santorini, and Corfu. So get ready to enjoy Greek sunshine and beaches.

Questions about traveling to Greece or any of our trips? Contact us to discuss your questions.