During Women's History Month, we set out to talk to a variety of influential women in travel to ask them to share their experiences related to the travel industry, their personal and professional challenges in the past year, and their predictions for the future for travel.
Our next featured influential woman in travel is Veselka Huljic, the owner of AndAdventure, an adventure travel operator based in Split, Croatia focused on sustainable tourism. Veselka was named a 2021 Top Travel Specialist for Croatia by Condé Nast Traveler.
She has been working in tourism for over 15 years and has a passion for the outdoors, showcasing the breadth and beauty of Croatia with international visitors. She was born and raised on the island of Hvar in Croatia, which remains her favorite island to visit because of the landscapes and diverse appeal.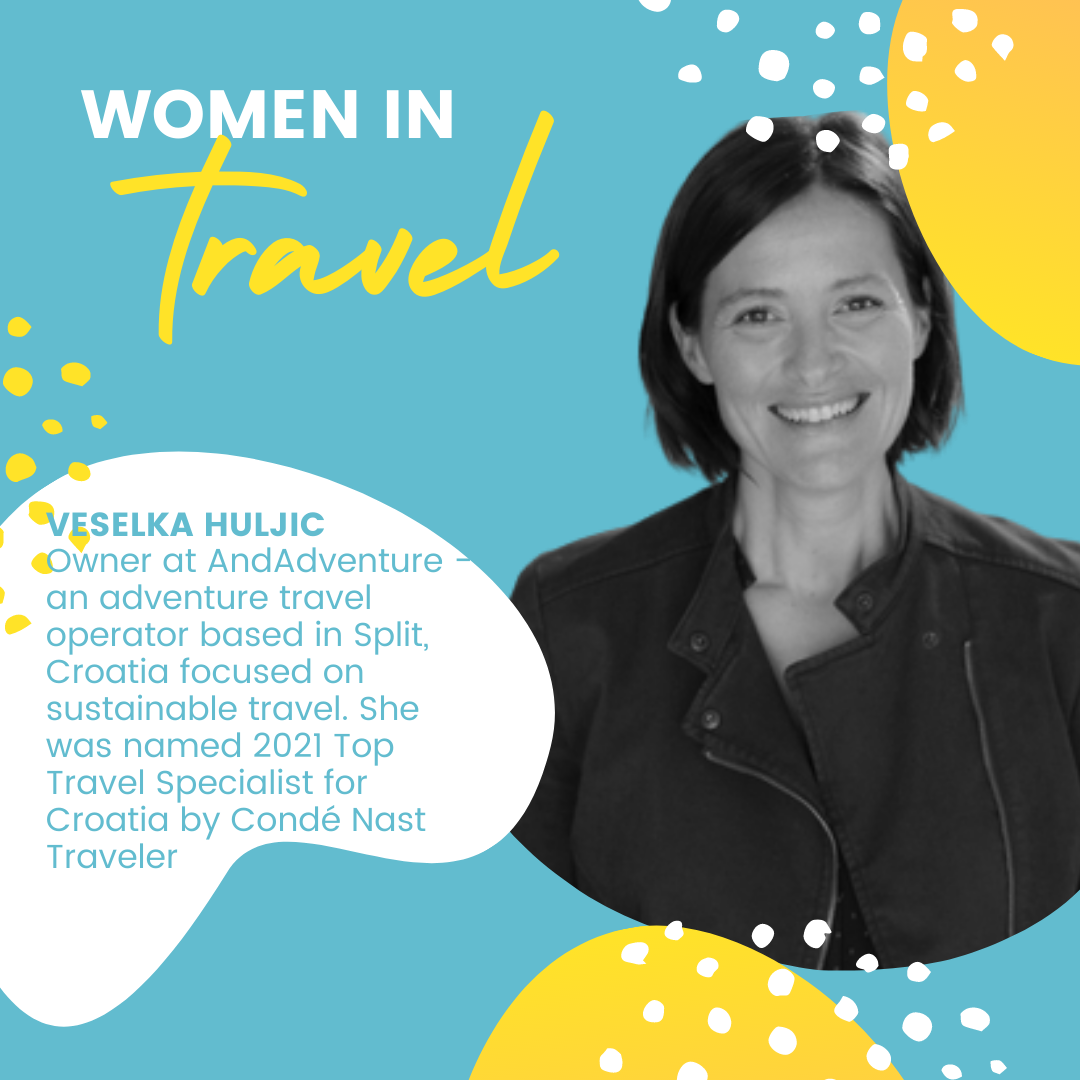 1 – How has your company responded to the challenges of COVID-19 and the disruption to the travel industry? Have you been able to turn any of the challenges into opportunities?
When the COVID-19 crisis started, it was hard to believe that so much time will pass, and we still don't see the bright light at the end of the tunnel – there are some sparks – but no big lights yet. When the crisis started, our primary focus in the company was to assess our next steps to keep the company afloat for one year – as we hoped that things would slowly start to get back to normal by this time. We started cutting all our costs that were not vital for the company and did our best to reduce costs that we couldn't avoid. I was also very focused on finding steps and ways to keep the entire team without letting anyone go. So far, we are still enduring – our core team still has their jobs. The main difference is that we did not hire any additional seasonal staff and outsource guides, as there was no need for their services.
Catering our tours to the North American market – we had a really tough season in 2020, as there were not many travelers from that market visiting Croatia. Anyway, to keep the long story short – our priorities shifted almost overnight from growing our team and offering bespoke adventures to our clients to keeping company "alive", keeping our partners informed about the situation in Croatia, and constantly tracking all the COVID-19 related regulations, procedures that were sometimes changing daily. We had several trips in 2020, and clients who were "brave" to travel and visit Croatia had the best time ever – all of them commented how they felt privileged – having all the places they visited just for themselves. This wouldn't be the case during a "normal" tourist season in the pre-COVID-19 times.
We used this "idle time" to start some new projects (like the update of our website that was published in May 2021); we spent a lot of time on guide training topics and procedures, polishing our product, but also preparing some new products, incorporating more sustainable practices in our business and evaluating in which direction to continue with our business. All of this would be hard to do if we didn't have this time in our hands. And the most important part is that we finally had more time that we could spend with our families, and all the assignments that we had on our agenda were performed at a much-relaxed pace with less pressure and without short deadlines.
2 – How has your role or position in the company changed since the start of the pandemic?
Not much, except that I was and still am doing my best to keep the team motivated and smiling despite all the hardships we face. And that is even harder when we all work from our homes and when we have long periods without meeting in person and not knowing when this crisis will end.
3 – Beyond the disruption to our industry, how have you personally been impacted? Please share some examples of how you reacted to and overcame the personal challenges over the past year.
I am blessed that we are all well and healthy! None of my family and friends and my team's families didn't have COVID-19 in the life-threatening form. And at the moment I would say that this is the most important thing. All other challenges that came in the package with COVID-19 are mostly business and financial-related, and although it is not easy – it is part of the game. And this shall pass too, and we will recover our businesses and grow stronger again. No matter how hard things get, I wish to believe that there is no space for despair – but another lesson we can use for our personal growth.
4 – Do you have any recommendations for our readers regarding planning travel in the future?
It is so hard to predict because the situation changes on a daily basis. And once you think that things are going back to normal, a new wave hits, and we are back from where we started. But the main difference between 2020 and 2021 is that vaccines are available, which is a game-changer. I am speaking from a perspective of an inbound tour operator based in Croatia and catering North American market. I hope some international travel (on a small scale) might happen in September/October 2021. And that 2022 will be our path to recovery – but still not in the full capacities we were dealing with in 2019. My hope is that the travel industry's future will become more sustainable, catering to small groups and more unique experiences dispersed from the main touristic hubs that tourists overran in the past.
But we are all aware that once the travel industry bounces back, we will be dealing again with over-tourism in many destinations and in many aspects; after all, humans are creatures of habits. I am also sure that the number of people appreciating private and small group tours in the outdoors will grow in the future and that eventually, a shift in the industry most of us hope for, might happen in the future. COVID-19 did move some of these ideas fast forward for many companies in the industry – from dreaming about becoming a sustainable and transparent business to taking steps to become one. 2020 was also the year in which many other essential issues in our society became a topic. I hope that the travel industry might lead the way in putting an example on creating businesses of equality, inclusion, and support for the benefit of our society. Being a small, female-owned, company dedicated to active/adventure travel and sustainable practices – we don't need to change much to adapt to what we expect the future of travel might look like for us – so our primary goal is to be ready for the comeback as a better team and better operator.
5- Do you have any recommendations for our readers regarding planning travel in the future?
I would like to encourage them to make more sustainable choices. It can be baby steps – like having their own reusable water bottle on their trip or choosing an operator who is supporting environmental protection policies and supporting local communities. But also to dare to travel beyond the MUST SEE places published in various guide books and on Instagram profiles. Explore places that are off the beaten path, places that don't necessarily have high-class hotels and touristic infrastructure but instead offer great homestay options where you can immerse in local culture. I would like to encourage them to travel with an open heart and curiosity because only then can they gain from their travels. It shouldn't be about ticking the boxes and posting on Social media.
6 – What is your biggest takeaway from the past year?
TIME- a commodity I didn't have in years. Sounds silly, but it's true.
---
Connect with Veselka and AndAdventures
AndAdventure | Facebook | Instagram