During Women's History Month, we set out to talk to a variety of influential women in travel to ask them to share their experiences related to the travel industry, their personal and professional challenges in the past year, and their predictions for the future for travel.
Our next featured influential woman in travel is Sharada Dhakal. Sharada owns and operates an adventure company with her husband in Kathmandu, Nepal called Himalayan R.S.T. Treks & Expeditions Pvt. Ltd. She has over 2 decades of experience in the tourism industry of Nepal. Her company offers travelers a variety of trekking, climbing, rafting, and kayaking experiences in addition to tours and travels throughout Nepal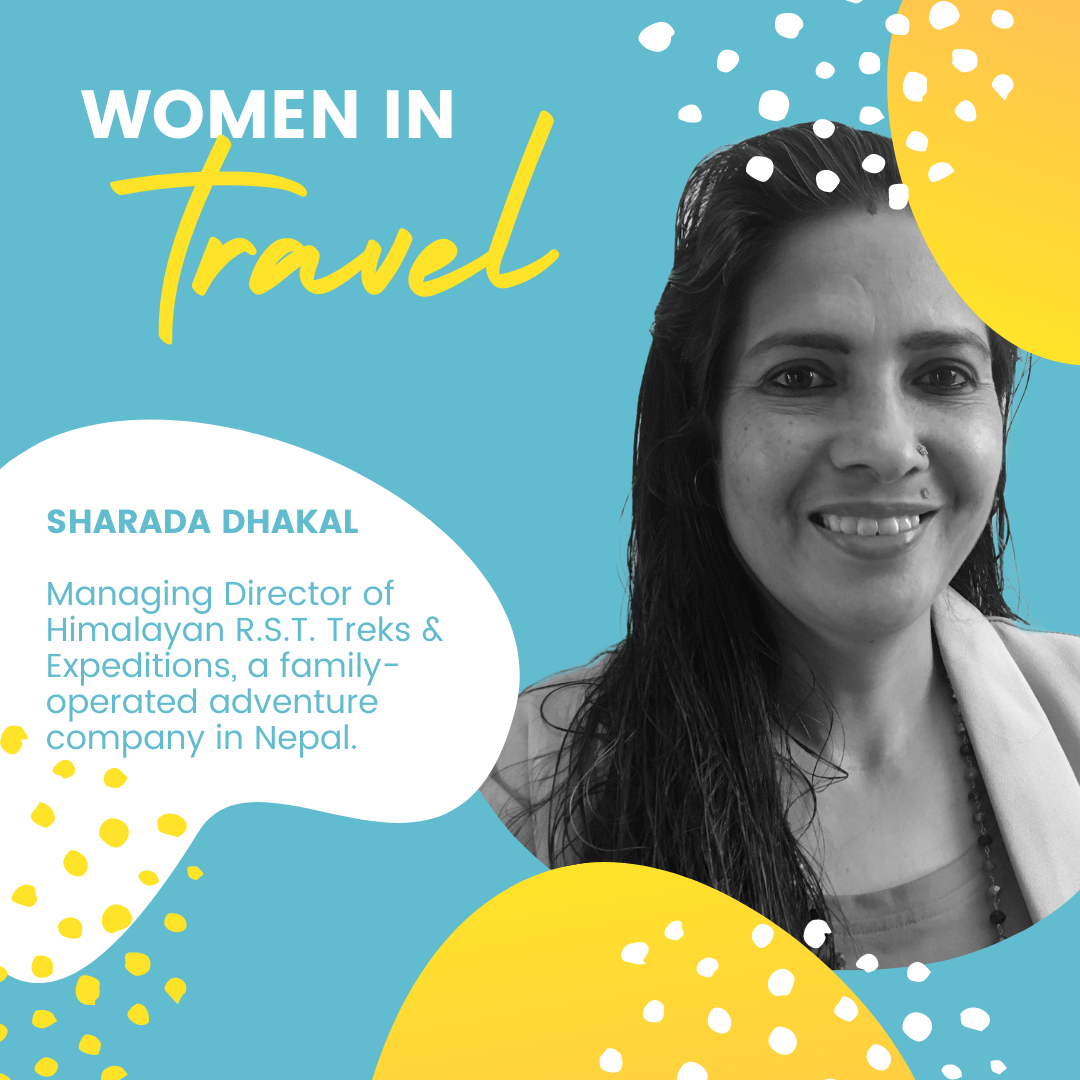 We spoke with Sharada about how travel has changed since the COVID-19 pandemic and what she envisions for the future of the industry.
1 – How has your company responded to the challenges of COVID-19 and the disruption to the travel industry? Have you been able to turn any of the challenges into opportunities?
Our company has been just as affected as many others in the industry. In times like this, first and foremost, we adhere to the safety rules of the country and make sure our staff is paid well and looked after. A pandemic of such a degree does place plenty of challenges, but this has given us an opportunity to reflect and go over the details of operations within the company and make improvements for the future.
2 – How has your role or position in the company changed since the start of the pandemic?
As the managing director of my company, my position in the company has remained the same since the pandemic.
3 – Beyond the disruption to our industry, how have you personally been impacted? Please share some examples of how you reacted to and overcame the personal challenges over the past year.
The impact of COVID is very similar all around the world, but that does not make it any less personal. I have been unable to see my daughter for over a year. She is studying abroad at the moment and due to the border controls, travel is restricted. Just like most around the world, we are distanced from our loved ones, concerned about their well-being as they are about ours. Just largely speaking, COVID has made the disparity in the world more pronounced. I am grateful for every little thing. We know people are out there, who are going through such a rough time and we feel for them. But we are all in this together, and somehow that thought brings some peace with it. (All of us can't wait for this to be over already!)
4 – What do you envision for the future of travel?
I think being able to travel again might bring along with it a new sense of novelty and euphoria. Although, I predict the journey itself to be much more technical, more rules, more precautions, more precocious. But that will be the way of the post-pandemic world, and we must abide by it to ensure we don't relapse to the COVID world again. I also predict a new zest and appreciation for the very act of traveling, it might become well-thought-out, more comfortable, better systems in place. I know our company will be relentless in making the process of traveling on par with all safety requirements but more enjoyable nonetheless. With regards to international travel, I assume vaccinations will be a necessity and travel will presume in little pockets and bubbles between countries at first, rather than all at once.
5 – Do you have any recommendations for our readers regarding planning travel in the future?
Think of your dream holiday, dream big, and plan it out in detail. Cover to cover, city to city. Restrictions aside, work towards making it happen. This will engage you in a fulfilling journey of self-improvement and maybe even self-discovery as well. And when it finally happens, you will be so content with it. Appreciate places, moments, people, and yourself while you travel. Take proper precautions, abide by safety rules, and as always, safe travels!
6 – What is your biggest takeaway from the past year?
The unpredictability of life was really on display this past year. I learned to appreciate what truly matters, taking care of one's mental well-being, and appreciating your loved ones. I learned the importance of taking a break. It shouldn't take another pandemic to take care of yourself while being compassionate towards one another. And most importantly, I learned how much I can't wait to start traveling again!
---
Since we interviewed Sharada in March, the COVID situation in Nepal has become increasingly severe due to a spike in infection rates causing an overload of the health care infrastructure. Access to a reliable source of vaccines has been severely limited due to the situation in neighboring India.
Nepal is in need of immediate and direct aid. For those of you able and interested in helping Nepal we recommend the following organizations.
Help Nepal Network – a locally run organization providing direct aid.
Direct Relief – Nepal – Please choose to direct your donation to "COVID-19 Response – Nepal"
ActionAid – A charity focusing on women and girls living in poverty currently prioritizing emergency Coronavirus response to India and Nepal.
Connect with Sharada and Himalayan R.S.T Expeditions