During Women's History Month, we set out to talk to a variety of influential women in travel to ask them to share their experiences related to the travel industry, their personal and professional challenges in the past year, and their predictions for the future for travel.
Our next featured influential woman in travel is Jennifer Tombaugh. Jennifer is the President of Tauck, the family-owned US-based tour operator serving all seven continents with more than 170 guided travel experiences and events for culturally curious travelers. Jennifer oversees Tauck's Worldwide Operations, Brand Management, Reservations, Guest Relations, Global Sales, and Digital & Direct Marketing teams. During her 19 years at Tauck, her roles have included the launch of Tauck Bridges, the redesign of Tauck's reservation systems, a re-launch of tauck.com, and the formation of Tauck Ventures, focused on new business development.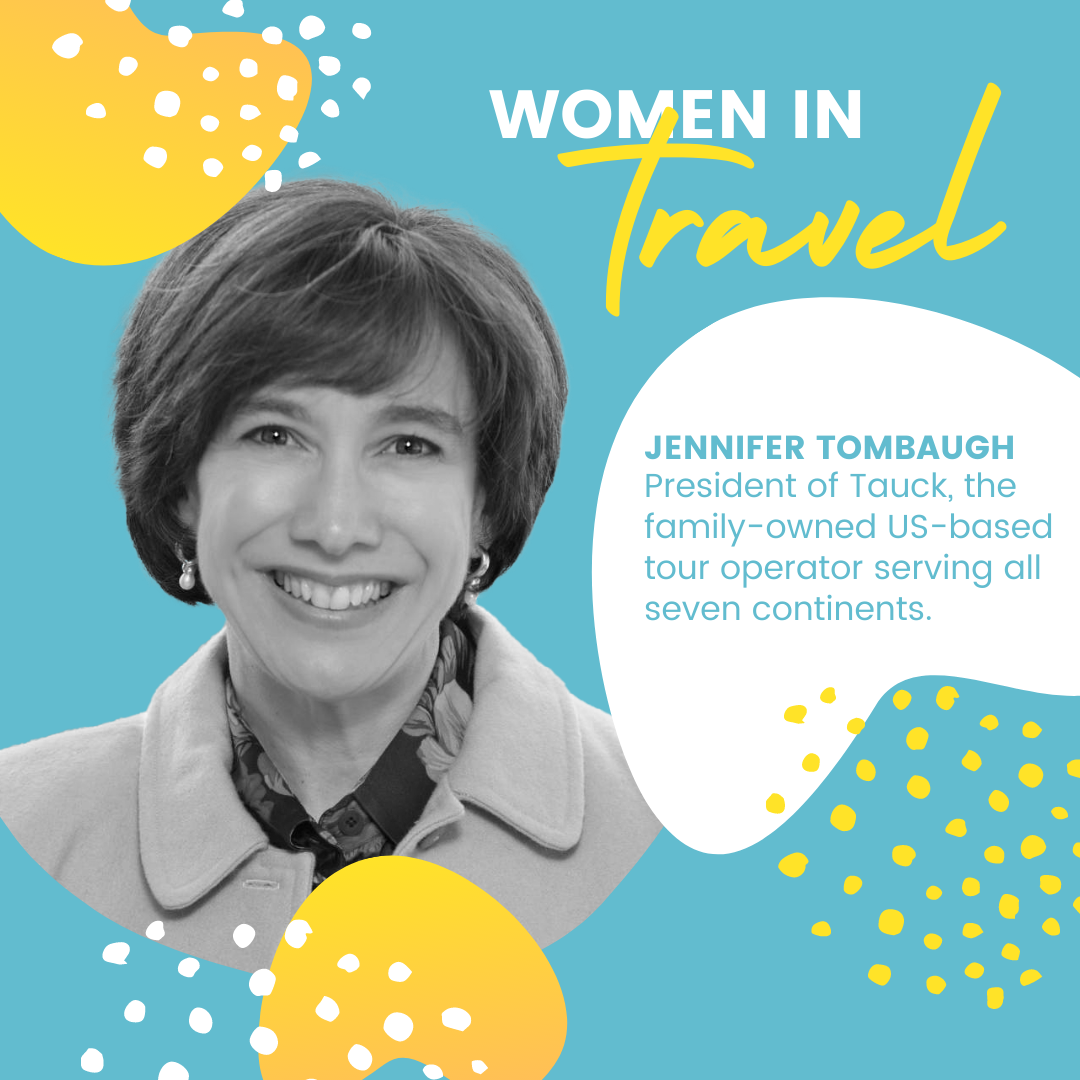 If that wasn't impressive enough, Jennifer's previous experience spans from working at the advertising firm Leo Burnett in Taipei, Taiwan; in Brand Management at The Coca-Cola Company in Atlanta, Georgia; and as a management consultant with Monitor Company in Cambridge, Massachusetts.
With her vast experience, Jennifer's unique perspective is not to be missed. Read our conversation with her below.
1 – How has your company responded to the challenges of COVID-19 and the disruption to the travel industry? Have you been able to turn any of the challenges into opportunities?
In 2020, Tauck was to celebrate the strongest year in our 95-year history.  Instead, in March we ceased our operations for the first time since WWII.  We began canceling operations and restructuring our team, as the prospects of a quick recovery from the pandemic faded.  While certainly the most challenging year for our industry and for our team, we learned many things.  We learned that the personal connections that we forge with our team, our guests, our travel advisors, and our partner suppliers are our most valuable assets.  We placed personal calls to each and every one of our thousands of guests and advisors planning travels with us.  We held multiple meetings with each of our supplier partners to find ways to navigate the uncertainty of operations.  We created many new communication platforms, including a regular newsletter The Compass which showcased our partners, Tauck Directors, and unique experiences; a bi-weekly webinar series called insideTauck which profiled our wonderful partners with unique behind-the-scenes experiences at destinations around the world; a content-rich Health & Safety area on our website to track the ever-changing requirements; and dozens of advisor webinars and Town Halls to keep our advisor community informed and connected. In short, we had more than 1MM touchpoints that kept our personal connection to our Tauck community strong.  In a year where we have been physically distant, we are in some ways more personally connected than ever before.  This means we have a super-charged community of Tauck team members, supplier partners, and Tauck Directors eagerly awaiting our guests' return to destinations around the world.
2 – How has your role or position in the company changed since the start of the pandemic?
Once we quickly shifted to working from home, my focus expanded to keeping our team engaged, connected, and informed.  I began writing a daily blog—sometimes fun, sometimes reflective, sometimes informative—for our office team and Tauck Directors to read.  We continued our weekly Town Hall meetings, but they shifted to both presenting content from our teams and partners and open Q&A to address issues on people's minds.  I continued my monthly open lunches so that anyone could "pop in" and bring up issues or questions. I restructured our Executive Team meetings to daily, shorter meetings with different working teams so we could all keep our pulse on the quickly changing environment and our response.  Of course, strategic planning, operational oversight, and financial management were still central to my role; the role of a sort of "Communicator in Chief" became increasingly important to ensure we kept morale high and work-life balance in check.
3 – Beyond the disruption to our industry, how have you personally been impacted? Please share some examples of how you reacted to and overcame the personal challenges over the past year.
I am a mother of four, so having four pre-teens and teens stuck suddenly at home and navigating the great unknown of online learning while trying to comprehend and manage the shutdown of our industry was especially challenging.  We all struggled with some very difficult and dark days; I'm certainly no exception there.  I learned it was important to be transparent about my own struggles with our team so they felt "permission" to feel the same, especially when it came to parenting or simply feeling overwhelmed at times.  We had some very honest conversations, and exposing that vulnerability made us all closer and stronger.   I started keeping a journal of "silver linings" to remind myself of all the good things that were happening, especially with the blessings of having my family all together. I reread this at times and realize there were many very good things that came from this gift of togetherness.  My son is an aspiring chef, and we all love cooking, so our kitchen became the heartbeat of our house and created the memory of many a great meal.
4 – What do you envision for the future of travel?
We need a crystal ball!  I've realized over the last year that no one knows the answer to this important question, but I can tell you this: travel demand among our older American, culturally curious guests is extraordinarily high. Each day, hundreds of guests and advisors are calling to say that they're vaccinated and ready to go!  More than 90% of our guests have told us they'd gladly show proof of vaccination to gain permission to travel internationally; vaxations are a very real thing.  We have restarted our operations in the United States where we can, and we are poised and ready to send our guests across the globe as soon as the borders open.  We are heartened by Greece and Iceland and hope other countries soon follow suit, which we believe they will as their vaccination rollout ramps.  We're eyeing late summer for Canada and at least the UK, who already has more than half of their adult population vaccinated and cases and mortality rates plummet.  Once we do start traveling again, you'll continue to see a focus on all things "small", in terms of the size of the groups (and thus the opportunity to physically distance as needed).  Travelers will seek a more sustainable balance to tourism.  You'll also see travelers taking longer trips, and lingering more speaking to people, and reconnecting with the fabric—the food, stories, culture, and history—of a destination.  We crave human connection.  We have suffered this pandemic together, and we need the sharing of stories and togetherness to heal. We need travel to fulfill our basic human desires of exploration, learning, discovery, and connection.   As for Tauck, we simply cannot wait to begin doing what we love; and I know each of us is going to savor our own travel experiences more than ever.
5 – Do you have any recommendations for our readers regarding planning travel in the future?
Book now.  While many are hoping to travel internationally in the second half of 2021, a growing number are securing reservations in 2022.  To ensure you have a spot where and when you want, book now.  With flexible cancellation policies, there's no reason not to.  And it will make you happier; many studies have shown that the simple act of planning travel will give you something to look forward to, building anticipation and excitement.  Who doesn't need that right now?
6 – What is your biggest takeaway from the past year?
Beyond the obvious importance of—professionally, substantial cash reserves—and personally, my family and our health, the personal connections I have with my team, our guests, our advisors, our partners, and my friends are priceless to me.  We realized quickly that no one knew the answers to the problems we would face professionally and personally.  Listening and learning from each other has helped Tauck become even stronger and better poised for a robust recovery, and helped me, hopefully, be a better person, friend, and leader.
---
Connect with Jennifer Tombaugh and Tauck: